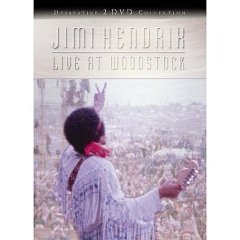 Everyone knows that Jimi Hendrix was good but seeing him at Woodstock really brings it home.
The fluidity and style with which he played – not to mention the soul – were out of this world. Delays on the day meant Jimi and his band of gypsies didn't go on stage until 9am which might have been a pain for the festival-goers but it does make it easier to examine his playing all these years later. His dexterity and speed throughout some incredibly complex arrangements is plain to see and it is truly breath-taking.
This DVD is not perfect though. Critics point out that it is not a complete reproduction of the set as two songs with Larry Lee on vocals are excluded. Also, 'Hear My Train A-Comin' is only included in amateur black and white footage on disc-2 as the official cameramen were all busy changing their reels. The newly-formed 6-piece band are clearly flying by the seat of their flared pants on several occasions, although they do generally get away with it. The sound mix is also debatable because Larry Lee's guitar and the two percussionists are barely, if ever, heard. Although looking at the state of Jerry Velez, bongo-player extraordinaire, it is probably a good job.
On the plus side there are plenty of highlights such as 'Message To Love', 'Izabella' and 'Woodstock Improvisation'. Jimi's natural showmanship is a joy to watch and listening to him talk either on stage or during interviews is a valuable insight into an easy-going, intelligent and kind man. It is also useful for all wannabe musicians to see how Jimi leads the other band members with various nods of his head, motions of his guitar, or the occasional scowl when something displeases him.
And of course there's 'Star Spangled Banner'. I first heard his version of this many years ago and thought it was good, but seeing him play it really adds a huge weight to the performance. At times watching this DVD I found myself contemplating whether Jimi Hendrix was actually human because surely nothing on this earth could do the things he could.
The extras are OK but don't add a great deal to the package which isn't a big problem because the main event is so good. However, it is nice to get a flavour of life at the time and perhaps what it was like to be around Jimi Hendrix.
This release would probably satisfy anyone who was going to buy only one Hendrix DVD as it contains most of the classics. In my opinion it also showcases Jimi's unique guitar talents the best with significant footage of his playing, rather than singing, style.
Main DVD set-list; Message to Love / Spanish Castle Magic / Red House / Lover Man / Foxy Lady / Jam Back at the House / Izabella / Fire / Voodoo Child (Slight Return) / Star Spangled Banner / Purple Haze / Woodstock Improvisation / Villanova Junction / Hey Joe
Extras include; The Road To Woodstock documentary / Jimi Hendrix Live At Woodstock – A Second Look / Jimi Hendrix press conference / Nashville Roots with Billy Cox and Larry Lee / Recording artefacts And memorabilia