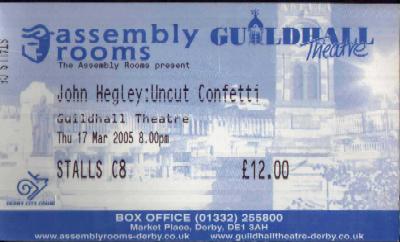 "I'm off to see John Hegley", said I with sense of glee, "Your going to see a weatherman?", my friend he said to me. "That's John Kettley, Not John Hegley", I gave a curt reply. My friend he turned his head to me and looked me in the eye.
And said "Never heard of 'im".
Those of you less ignorant than my mate will be familiar with John's style, those of you who have yet to be enlightened, don't be put off by my feeble attempt at mimicry.
The tickets for this gig were a very welcome Christmas present from Lisa's sister as we had missed the Nottingham date, so I was very excited about going to see John Hegley in the flesh even if some of my friends couldn't get what the fuss was about. The Guildhall in derby is a nice little theatre right in the city center, and as expected, the gig was a sell out.
Slightly the worse for wear, having been drinking almost continuously since the England (4) V (0) Northern Ireland World Cup qualifier game in the afternoon, I wandered upstairs to the venue to catch brief glimpses of the two support bands.
John Hegley is a committed glasses wearer, dog lover, Luton town supporter (we all have our cross to bear!!) and poet. Armed solely with a mike and a mandolin called Steve and no small amount of audience participation, John proceeded to sing songs, read poems and muse upon his life from it's early beginnings in a Luton Bungalow, through school days, his family life and recent visits to Scotland, New Zealand and Australia.
John seems to be able to pluck things from even the most mundane situations and turn them into little gems of humour that we all can relate to. Sometimes sad and sometimes downright surreal John has a talent that will crack even the most sour faced old maid.
A great night's entertainment and I got some books signed too, fantastic!
Cheers!