This is a great festival. It's only small (especially the spring one), but it makes up for it big time by being just about the best-organised festival you will ever go to. The camp site is spacious, there's plenty to see and do, the stewards are all friendly and helpful and there's plenty of reasonably priced beer to be drunk.
This is a review of the Saturday evening events, as due to other commitments and much as I'd have liked to, I couldn't stay for the rest of it.
The evening started off with a set from Vinny Peculiar, who I unfortunately missed due to being slightly later than expected.
Next up were Derrin Naudendorf and Dave Downing, who performed a set lasting about an hour and a half, with just a basic drum kit, an acoustic guitar, a voice and a hell of a lot of energy. The guitar playing was fantastic, speedy on occasions, neat and very melodic at other times. They mostly played there own material, with a couple of covers and some Dylan numbers thrown in as well.
The crowd seemed entranced and called them back on, appreciatively, for an encore.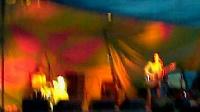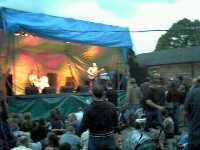 Between 21:30 and 22:30, we had a bit of a wait while the Levellers kit was set up on the stage and after much "one, twoing" and an occasional "three, four, five, six" from the sound guys, John Shaw MC appeared on stage to introduce the band that everyone was waiting for, the Levellers.
Before the band came on stage, John Shaw appealed for anyone in the audience with an harmonica to come forward, as Simon had neglected to bring his with him, and promised that Simon would buy them a pint after. Unfortunately, no harmonica was forthcoming and so Simon was ribbed for the entire set for having forgotten it. He passed it off well, by explaining that he'd not actually forgotten it, but had not bought his normal roadie with him, and it just showed how much those guys were worth to a band.
The band appeared on stage in front of an expectant crowd and Mark started by asking if we were all looking forward to the gig. He then told us to "lower your expectations. Lower them down". He then seemed to have a problem with where to put his cigarette and passed it to a girl at the front, telling her that he wanted it back.
The Levellers then started to play and "The Ballad of Robbie Jones" was the first number. The band seemed to be in very good spirits, with Mark and Simon in particular, getting some banter going with the assembled crowd. After the first song Mark's microphone stand needed adjusting and he told us that "It's no use having a floppy thingy" and went on to say "After too many pints of scrumpy, Mr. Floppy comes out", which was probably too much information.
The band were seated on the stage with Jeremy in the back left hand corner with his bass, Mark telling everyone that "you could have that hairstyle and dress sense, if you drunk that much real ale", Charlie in the middle at the back, with his "cardboard box for a bass drum" (which, however unlikely it may seem, actually sounds fantastic) and Matt seated at his keyboard on the right, sideways on facing Mark.
Along the front were Simon (who appeared to be praying, at times, to the sound man to turn his banjo up), at the left hand end, Jon, on fiddle, in the middle, and Mark at the right, alongside Matt's keyboard.
Each of the early numbers was interspersed with some chat with the crowd, Mark announcing a "snog a Leveller" competition, and the first Leveller up for it would be Jez, "He'll chase you. He's slow, but he'll get you in the end" and asking where the bloke who'd been dancing all day was, and then spotting him in the middle and saying "give him room, he's been dancing all day to everything".
The early part of the set was made up of "Another Man's Cause", "Burn", "Galahad", "Julie", an excellent "Men-An-Tol", the fantastic "Lowlands of Holland" and "The Boatman", Simon saying before they started it that "I wrote this while living in Kilburn", which raised a cheer.
Somewhere during this lot Jeremy announced quietly to the band that he was very drunk, and Mark told everyone that he was fuelled by Barley Wine. Jez did look slightly the worse for wear and at one point early in the proceedings seemed to get caught up in his dreadlocks and spent an age rearranging them, tied up on top of his head, while attempting to keep his balance on his stool and play the bass.
Mark introduced "Not in My Name", by asking "Does anyone know who Nick Harper is? Has he played here" (next year Nick?) and, on getting a positive response, saying humorously "We wrote this with him. He wrote the shit bits". The song itself is a worthwhile addition to the Levellers ever growing archive of material, and was played beautifully, with Mark saying at the end, "You know that shit bit at the end where Charlie went wrong? Nick wrote that" and we all laughed.
During another pause Mark, who was in excellent form asked the crowd "Has Rev (Hammer) played here?" and then went on to joke "Don't book him, he's shit. In fact, get up a petition to stop him playing".
Simons punishment for forgetting his harmonica was to have to play the Bazooka for one number and then, after that track ("Carry Me") Mark announced that for the next song Simon would be playing the Chilean Anal Flute!
The second half of the set consisted of the speedier numbers such as "Four winds" (gets better every time I hear it), "Is this Art", "Beautiful Day" (Mark forgetting some of the words), "Burford Stomp", "Riverflow" (Mark – "this'll get you chair dancing") and "Dirty Davey", which I think was the last one before the band left the stage, Matt having disappeared from the stage for the last few songs.
John Shaw and the entire audience persuaded the Levellers to come back for an encore and we were treated to "One Way" (with the special treat of a Jeremy Bass solo in the middle, and Mark saying, "you'll never hear that again, I hope"), a speedy "Just the One" and finally the curtain closer, the excellent "Wake the World", with Mark lighting his traditional cigarette, Jeremy's bass line and Matt's keyboard keeping perfect time and Johns fiddle and Marks vocal making the song perfect.
Another fine set from the Levellers to top off a superb 7th Off The Tracks Spring Festival. Long may they continue.